Today LLC "Korund" is a multi- field chemical company and consists of a few production and technical complexes ...details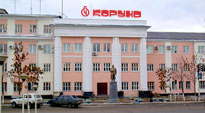 07.12.2005

Production of 3-dimensional single-crystal leuco sapphires is one more perspective branch of activity of "Korund".
16.11.2005

"Korund" is interested in involving young perspective personnel to work. This was approved by enterprise, which was held by personnel department, museum of labor and battle glory and personnel-training department.
01.11.2005

MEDT of RF has started a special defensive investigation concerning sulfurous anhydride, imported to the territory of RF.
01.11.2005

Such decision was made by MEDT on the 21st of October 2005 based on Federal law № 165-FL from the 8th of December 2003.
28.10.2005

"Korund" was included in number of prize-winners of review - competition for the best organizational work with the veteran organizations.